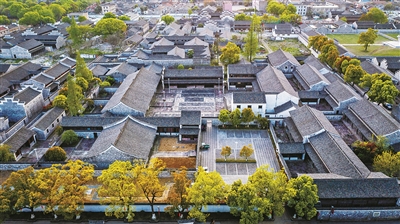 The historical town of Cicheng. /慈城古縣城。
[Photo by Wang Peng]王鵬攝
  Cicheng, a millennium town in Ningbo, is a famous tourist attraction. Originally planned and built during the Tang Dynasty (AD 618-907), Cicheng's style took after the once capital city Chang'an. 33 buildings in the town have been protected at national or district level status.
  千年古縣城——慈城是寧波著名旅游景區。該縣城建筑風格源自唐代,與中國古代都城長安相似。城內文物古跡眾多,擁有國家省市區四級重點文物保護單位33家。
  Cicheng, literally "Town of Filial Piety" in Chinese, derives its name from a moving folk tale.
  慈城,字面意思是"慈孝之城",得名于一個動人的故事。
  During the Han Dynasty (206 BC- 220 AD), on the north bank of Cihu Lake lived a man named Dong An. His mother fell incurably ill and expressed her last wish on her deathbed: to drink the water from her hometown one last time.
  漢代時,慈湖北岸住著一位名叫董黯的人。他的母親身患重病,臨終前表達了她想喝家鄉水的愿望。
  As an obedient son, Dong trekked dozens of miles every day to a stream in his mother's hometown to fetch water. After several days, his mother miraculously recovered. In honor of the dutiful son, the local governor named the town Cicheng.
  董孝子每天跋涉幾十里到母親家鄉的一條小溪邊,為母親打水喝。幾天后,他的母親奇跡般地康復了。地方刺史將此地命名為慈城,以紀念孝子。
  This ancient town has given birth to many great scholars, including 519 jinshi (successful candidates of the highest imperial examinations in ancient China). World-renowned geneticist Tan Jiazhen and famous Chinese writer Feng Jicai are both Cicheng locals.
  慈城還是一塊人杰地靈的沃土,歷代共出進士519人。世界著名遺傳學家談家楨和著名作家馮驥才,都來自慈城。
  By Jin Lu